How to audit a lettings service: marketing materials
How to do it…
Thankfully, the process of reviewing agency marketing materials is nowhere as taxing as the process of mystery shopping. It can be done entirely online and there is no risk of blowing your cover on the phone with an agent. There are three varieties of content to explore: portal listings, the company website, and their social media channels. While reviewing websites and social media are fairly self-explanatory (simply load the relevant pages and off you go), there are a few steps required when reviewing portal listings that aren't necessarily as intuitive.
To review portal listings you will need to pull up the letting provider's entire stock list. To do this, go to either Zoopla or Rightmove and select the 'find agent' option. From there you can search for the specific chain or agency branch you would like to review. On Zoopla, you are provided with additional information such as the average asking price or age of a listing and the total number of properties that agent is currently marketing. Once you have found the agent's listing, you can adjust the filters accordingly to find what you are looking for.
What to look for…
Each type of marketing content that agents use to attract landlords and renters offers a different kind of insight into how well an lettings service would work for you. Let's explore what can be learned about a provider operationally and as a brand based on three key pillars of their online presence.
Portal Listings
As with any promotional material, the purpose of a listing is to sell a product – in this case your property. The listing will be the first preview renters see of the premises and the way your property is presented will determine whether or not they make an enquiry. There are several key competencies to look when you assess a listing:
Property photos
Property description
Price (if looking at your own property)
Compliance
When viewing an agent's overall stock, you can also get a sense of how well they manage their portfolio. If you select the filter to arrange the listings by oldest first, is there a significant number of properties that have been advertised for two months or longer? This would suggest that either their time-to-let is not particularly impressive or that they don't manage their listings diligently enough. On Zoopla, it will tell you the average listing age for an agent's stock. While there are the usual caveats applied as with any average figure and external factors that may be unrelated to performance dragging the figure up or down, you can still gain some insight into their efficiency. It can also be used as a metric to compare different agents along with pricing and customer service level.
Having gained a general sense of what can be learned about a lettings provider by viewing their entire stock, let's drill down into what landlords need to look for in a specific listing.
Property Images
The quality of the images and description of a property reveal a lot about the professionalism of the agent and the level of care with which they handle your asset. As a bare minimum, they should have uploaded high quality images and arranged them in a logical order that showcases the property's best features.  A truly baffling number of lettings providers upload grainy, poorly lit images that have evidently been captured on a mobile phone. The best marketing photos are:
Captured at the best angle to showcase the entire room.
Well lit but not so bright that key features are distorted.
High resolution.
Relevant for renters – nobody cares about that arty close up of the bathroom tap.
Clean and tidy – if the current occupants haven't made the bed or cleaned the kitchen, the agent shouldn't include the image and instead try to capture a better one at a later date.
Both Zoopla and Rightmove permit two cover images on their standard listings. It is therefore essential that the agent selects the two best images of your property that are most likely to entice the renter to click into the full listing. This normally means a photo of the primary living space and one other attractive feature of a key image. Shots of the external building facade may look nice, but they aren't as relevant to a prospective renter as the living room or kitchen. You should never have to scroll through all images on a listing to find that 'wow' feature, but too many agents bury the lede by sticking a shot of a stunning garden behind a nice-but-bland photo of hallway lighting fixtures.
Most importantly, the images uploaded by the agent should be noticeably superior to anything you could produce yourself as the landlord. You could gain access to the property portals yourself at a significantly reduced cost, but the purpose of the agent is that they theoretically possess marketing expertise and resources that you do not. If they don't produce material that is superior to your own work, it is hard to justify the cost.
Property description
Similar principles apply to reviewing the property description. It should highlight your asset's most attractive features and effectively communicate the most relevant information to prospective renters in a way that is eye-catching and clearly formatted. The detail included in the description indicates how thoroughly the agency has researched your property and the amount of effort they are putting into ensuring that it is presented in the best possible light. Key features you should look out for include:
Accuracy of description.
Technical competence of the writing – spelling, grammar etc. This demonstrates whether they have taken the time to review the marketing materials prior to publication or if this is an afterthought. It is also a mark of professionalism.
Quality of the writing – is it engaging copy or is it bland text littered with property industry clichés?
Does the agent seek to add value in any unique way? An example might be by including brief remarks on the amenities available in the local area that might be attractive to a prospective renter.
Another good exercise is to review a random selection of their listings to check for consistency. If all of the agent's listings follow a fixed format and are of comparable quality it's an indicator that they have some form of quality control in place (and the overall quality of each listing should be better accordingly).
Pricing
If you are reviewing a listing of your own property, is the price advised on the portal the one which you had agreed with your point of contact? Many bad behaviours are endemic in the property industry, so it's wise to keep an eye on any live marketing materials to ensure that transparency is maintained. Sadly, it isn't uncommon for agents to drop the price on a property without prior authorisation to generate additional enquiries if they are struggling to gain any traction with renters. The market may well dictate that it is necessary to adjust the price point, but this should never be undertaken without the knowledge and consent of the landlord. It's your asset, you call the shots.
Compliance
There are certain regulations governing property listings and if they aren't respected the agent could be leaving you exposed. It is a legal requirement to include the key information from the first page of the EPC on any property that is marketing to let and there are potential fines for any breach of regulation. There is a de facto grace period of 28 days by which an EPC must be obtained if a listing goes live without the document, though best practice dictates that it is better not to go live at all before an EPC has been commissioned. It is also against the law to market or let any property with an EPC rating lower than E. Our proprietary research indicates that >50% of listings do not include an EPC.  If an agent has listings older than 28 days without this document, or they advertise a property with a rating lower than, this tells you everything you need to know about their overall approach to compliance. You should not trust them to provide accurate counsel regarding your legal obligations as a landlord.
Company Website & Social Media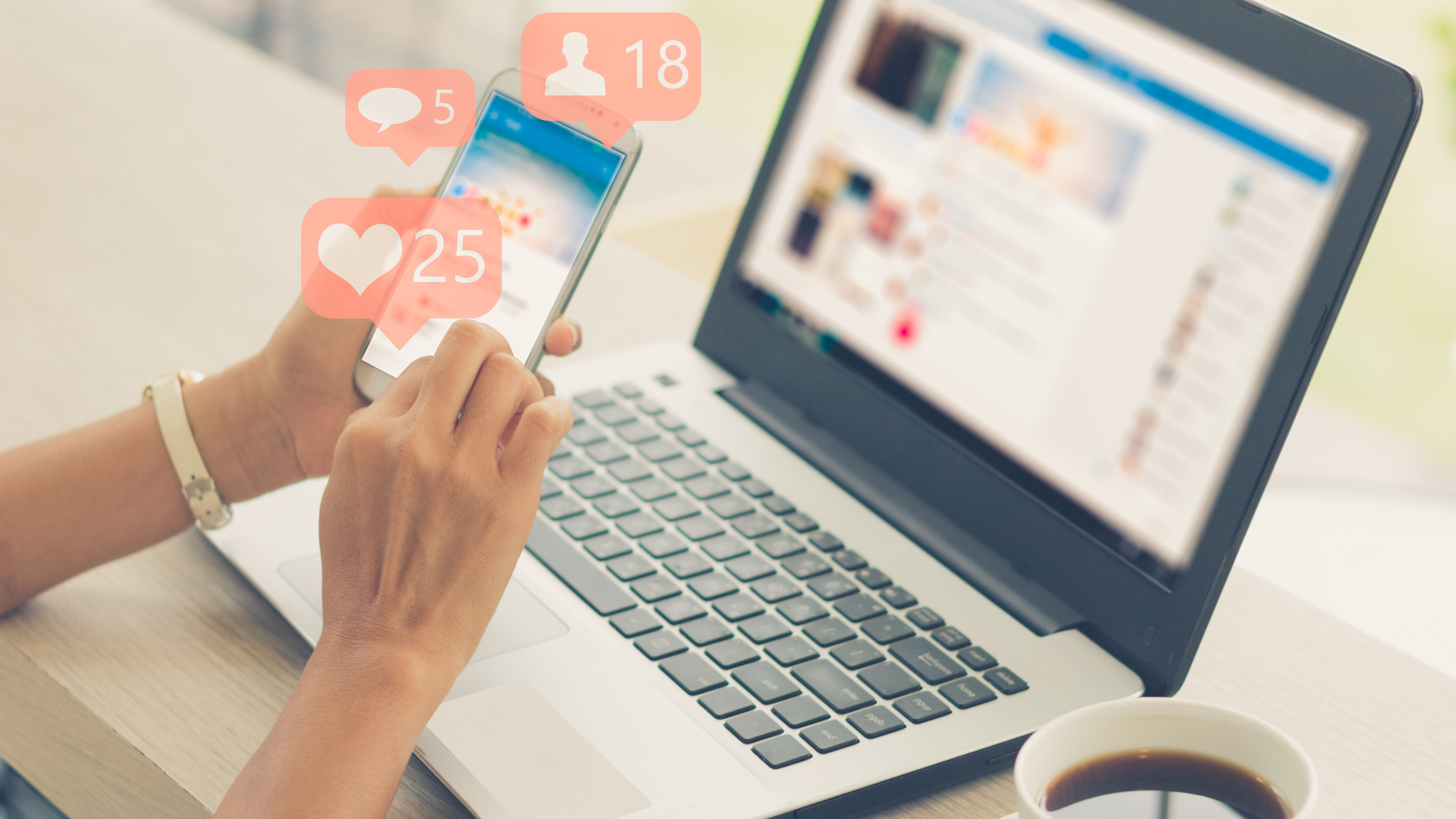 There are also significant learnings to be gained by reviewing the company's website and social media presence. As well as getting a feel for whether their brand feels compatible with how you like to run your property business, you can gain deeper insights into their operation that might not be always immediately obvious.
Website
A company's website should answer all of the key questions you might have about their service within only a couple of clicks of the homepage. If your website user experience is pleasant and intuitive, with all the information you feel you need easily accessible without having to search too hard, then it's one indicator that the company understands their customer. If they understand their customer, you are likely to have a far better experience.
The FAQs should be informative and relevant, details of their different services and everything included with each option should be clearly signposted and easy to understand and, most importantly, there should be transparent pricing information.
One of the biggest grievances landlords have with the traditional industry is that agents often saddle them with hidden fees and charges that were not clearly advertised at the point of sale. Check their website to see how detailed their pricing information is – if it feels sparse there's probably a catch.
If the lettings provider has a blog it is worth taking the time to read through a few articles in detail. I realise that, as a content writer, I have a vested interest in encouraging you to engage with a company blog. Nevertheless, this is a genuinely useful exercise in establishing how well a lettings provider (or any company, really) understands the needs of their customer. If the agent's blog includes insightful content that offers useful advice and genuinely adds value for the reader, you can be certain that significant time and resources have been invested into getting to know their client base.
A common mistake that many company's make is writing about themselves, or what they perceive as relevant to them, rather than subjects that are actually interesting to the customer. This is because, fundamentally, they haven't done the work needed to understand their client's journey or the issues that are most relevant to them. A content library that really addresses your needs is indicative of a company's wider customer-centric culture and mentality.
It also goes without saying, of course, that all content should also be factually accurate and logically sound. It is worth fact-checking any compliance articles against other credible sources (there will usually be a government-issued guide or trustworthy content from the Citizen's Advice Bureau and Shelter) to verify its veracity. As with the matter of EPCs on the portal listings, if an agent is dropping the ball on key compliance issues then they shouldn't be trusted with your portfolio.
Social media
Finally, it's worth investigating the lettings service's social media presence. With high street footfall on the decline even prior to the pandemic and most renters completing their property search online, it is essential for agents to have a robust digital strategy.
When you review their Twitter, Instagram, Linkedin, and Facebook accounts, ask yourself these questions:
Are they making efforts to advertise properties via their social channels?
Are they distributing interesting content designed to engage renters and drive traffic to property advertising?
Does there appear to be any consistent strategy or are posts infrequent and haphazard?
Are they posting content that is relevant to you as a landlord?
What does their social activity tell you about the company and the people who work there?
It's important that any lettings service you engage is tech-savvy and able to engage with renters where they are now and not where they were 10 years ago. Millennials and Gen-Zers make up a significant proportion of private renters and they are digital natives. In order to generate extra property enquiries, agents need to go the extra mile to reach renters on the channels that are relevant to them.
As always, we welcome landlords who would like to use the above guide to audit our own services. Feel free to put us to the test and then get in touch if you would like us to help with your property needs! (Details below.)
---
At Home Made, we offer a hybrid lettings solution that adds value at every stage of the rental process. With our game-changing new landlord platform, The Property Wallet, we offer London landlords exceptional tenant-find and property management services for a low monthly fee.
Avoid expensive upfront fees and spread the cost of marketing your property with the option to pay monthly.
Free rent collection and arrears chasing.
Sign off and see all charges and payments in your dashboard.
Real-time updates on marketing, viewings, and offers.
Prices start from just £50+VAT/mo for tenant-find and £60+VAT/mo for management. Alternatively, you can pay a one-off upfront fee of £1,200+VAT for our tenant-find service.
If you would like to speak with us about your property needs, contact us via our website to find out how we can help. If you're ready to get started, book your free valuation here.
Free Instant Valuation
See how much your property could get in rent.
Fee Saving Calculator
See how much you could save on property fees.
An industry where the customer rarely comes first
There's nothing quite as frustrating as receiving a poor service from your letting agent. A strong relationship between the two of you is important as you've placed a high degree of trust in them to ensure everything runs smoothly with an important asset.
Indeed, frustration with agents seems to be on the rise. In 2019, The Property Ombudsman reported a 20% rise in complaints against letting agents, with complaints registered by both landlords and tenants in almost equal numbers.
The primary areas of concern involved inadequate communication and record-keeping, complaints handling, and marketing and advertising. While these issues are all enormously frustrating, it's sometimes difficult to know at what point the service rendered is so poor that you are legally entitled to compensation.
What behaviour constitutes a breach of contract rather than just poor customer service?
If there are disagreements, you'll need to differentiate between poor customer service and an actual breach of contract. That's why your first port of call is the contract itself, which specifies all the details regarding the commercial relationship.
An agent that is slow to respond to emails might be providing a poor service, but it's not a breach of contract. However, one who doesn't do their job correctly, such as reference a tenant when you've paid for the service, is potentially in breach of their legal duty.
Determining the difference can be challenging, but if the agent hasn't done something promised in the agreement, you can assume they're in breach of contract. Before entering into an agreement with the agent, be clear about what you expect. Agents tend to tailor their services to landlords to win more business, so there's room for a discussion about expectations.
Here are some possible signs your agent has breached the contract:
Doesn't register the deposit if they've agreed to do so.
Doesn't follow through with marketing promises, such as putting the property on Rightmove Premium.
Fails to inspect the property correctly.
Doesn't take due care with the inventory or checkout.
Mismanages tenants if instructed to manage the property.
Misses a break clause in the tenancy agreement.
Fails to adhere to letting agent client money protection regulations.
Charging for fees not outlined in the terms of business.
And here are times where a letting agent might be providing a terrible service but isn't in breach of the contract:
Slow to respond to emails
Doesn't

 

let your property

 

in the time expected
Slow to reply to tenants if managing the property or is rude
Marketing and advertising materials fail to generate interest in the property
General lack of communication
If the tenant fails to pay rent
Too expensive
Another primary issue for landlords is that of hidden fees. At first, it might seem like the agent is bundling one set of fees after another into their service, but a quick check of the contract can shed some light on an agent's way of charging.
Again, having complete transparency over your agreement with the agent can give you more insight into hidden fees. By law, the agent needs to show all the fees they charge. If their fee structure isn't clear, check the small print in the contract and don't be afraid to ask as many questions as you need to prior to signing anything.
Where and how can landlords report an agent?
If it reaches the point where you decide to make a formal complaint against a letting agent for what you believe is a breach of contract, you'll need to know where to direct your complaint.
Complain to the letting agent
In the first instance, you should go directly to the letting agent. Communicating your dissatisfaction and bringing the problem to their attention is vital for ensuring everything is managed correctly. Most reputable letting agents have a complaints procedure in place and will attempt to solve the problem in-house – you can expect it to be handled by a member of senior management. If no procedure is available, send a clear written letter detailing the problem.
Use a redress scheme
If your complaint falls is ignored or you feel it hasn't been a satisfactorily addressed, this is the time to escalate the issue to a redress scheme. The agent will need to belong to the scheme for you to raise an issue (more on that shortly), and they will have a complaints procedure for you to follow. The redress scheme will look into the matter.
Citizens Advice
With Citizens Advice, you can benefit from free legal advice, and they can advise you on the best course of action to take relating to your issue.
False advertising
If an agent has misled you with false advertising, you can complain via The Advertising Standards Authority (ASA), the UK's independent regulator for advertising across all media.
What to look out for before instructing agents
Many potential issues can be avoided before settling on an agent. By looking out for certain red flags, you can reduce the likelihood of receiving subpar service that doesn't meet the terms agreed in your contract. Some straightforward due diligence includes actions such as combing through the fine printing of the contract and checking which redress scheme they belong to.
Agents are also legally required to be part of a redress scheme, such as The Property Ombudsman, as well as a client money protection scheme. Failure to comply with either means they're breaking the law and could be fined £5,000.
Government-approved letting agency redress schemes include:
The Property Ombudsman
Property Redress Scheme (PRS)
Ombudsman Services
While approved client money protection schemes include:
Client Money Protect
Safeagent (previously NALS)
UKALA Client Money Protection
Money Shield
RICS
Propertymark
There are also additional schemes that are optional, such as The National Approved Letting Scheme and Arla Propertymark. These aren't mandatory, but agents that are part of them may be regarded as more reputable.
It's also worth checking reviews from other landlords to see if the agency has previously provided a good service. Looking on sites like Trustpilot and All Agents can give you a better idea about what to expect from the letting agent.
Summary: A smooth service
Disputes between landlords and agents can happen, but redress schemes are in place to help if you believe a contract has been breached. And you can mitigate potential issues by doing your research and spending time going through the contract so that everything is clear between you and the agent before you instruct them to let your property.
At Home Made, we are confident that that any landlord doing their due diligence to review our service would be thoroughly impressed by what they find. We are properly accredited with all the relevant consumer protection services, our fees are entirely transparent, and our glowing Trustpilot reviews are a testament to the standard of service we provide our clients. We are a proptech lettings service, not an agent, and we're certain that anyone who gets in touch with us to find out more will be able to tell the difference immediately
---
At Home Made, we offer a hybrid lettings solution that adds value at every stage of the rental process. With our game-changing new landlord platform, The Property Wallet, we offer London landlords exceptional tenant-find and property management services for a low monthly fee.
Avoid expensive upfront fees and spread the cost of marketing your property with the option to pay monthly.
Free rent collection and arrears chasing.
Sign off and see all charges and payments in your dashboard.
Real-time updates on marketing, viewings, and offers.
Prices start from just £50+VAT/mo for tenant-find and £60+VAT/mo for management. Alternatively, you can pay a one-off upfront fee of £1,200+VAT for our tenant-find service.
If you would like to speak with us about your property needs, contact us via our website to find out how we can help. If you're ready to get started, book your free valuation here.
Free Instant Valuation
See how much your property could get in rent.
Fee Saving Calculator
See how much you could save on property fees.
Meet Sam your local Expert
Sam has a wealth of experience across the private landlord and Build to Rent sectors. He has advised a wide range of clients across the whole of London on how to find great tenants, improve their assets and effectively market their properties for the best returns.
See if we can save you Money